LITHOGRAPHIC PRINTING
Litho printing is for the highest quality print and can be used on a wide range of paper and card stocks including textured and heavy weight card. Pantone colours are matched and reproduced accurately with litho, ideal for corporate stationery for example.
LITHO
Corporate stationery
Letterheads
Business cards
Compliment slips
Invitations
Gilt edged cards
Envelope printing
NCR forms - pads/sets
Note pads
THERMOGRAPHIC PRINT
Thermography is an extension of litho printing which gives the ink a raised shiny finish, it can be used with any pantone colour and there are metallic options too. It can be combined with flat litho print as well to highlight names and logos on business cards.
If you want an invitation for a special occasion thermographed type will set it off with a lustrous finish.
DIGITAL PRINTING
Digital printing, fast turnaround lower cost printing of sales and marketing literature, brochures, booklets, business cards, leaflets, flyers etc.
Same day printing service is available.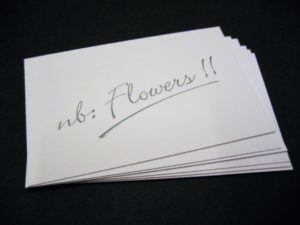 FINISHING
Wire Binding
Stitching
Creasing and folding
Duplexing ( 2 or more card layers bonded together )
Perforating
Hole punching/drilling.